As the world struggles to cope with the coronavirus pandemic, millions of people have been asked to self-isolate to stop the virus from spreading. From small businesses all the way to tech giants like Facebook, Amazon, Google, and Microsoft, companies are now letting their employees work remotely.

As our offices close their doors and we move to home quarantines, cybercriminals are ramping up their tactics to take advantage of companies who may have inadequate or naive security postures.

Coronavirus has not only triggered the world's biggest work-from-home experiment but also opened the door to more cyber attacks, IT headaches and brand-new security challenges.

But, guess what?

You don't need to sacrifice your personal and company security during this time. You and your company can stay secure online while you wait out the coronavirus crisis at home.


We've also put together some other great tips to keep your organisation secure online and help you see through any scams that might target people working remotely from their home quarantines.
Coronavirus scams targeting businesses and individuals
Before we explore how businesses can run effectively within a remote workforce, let's take a look at some of the digital COVID-19 scams that have already been observed.
As a major source of information on the outbreak, the World Health Organization (WHO) is among the most-impersonated authorities in the ongoing scam campaigns. In the example below, fraudsters pretend to offer important information about the virus in an attempt to get potential victims to click on malicious links. Typically, such links can install malware, steal personal information, or attempt to capture login and password credentials.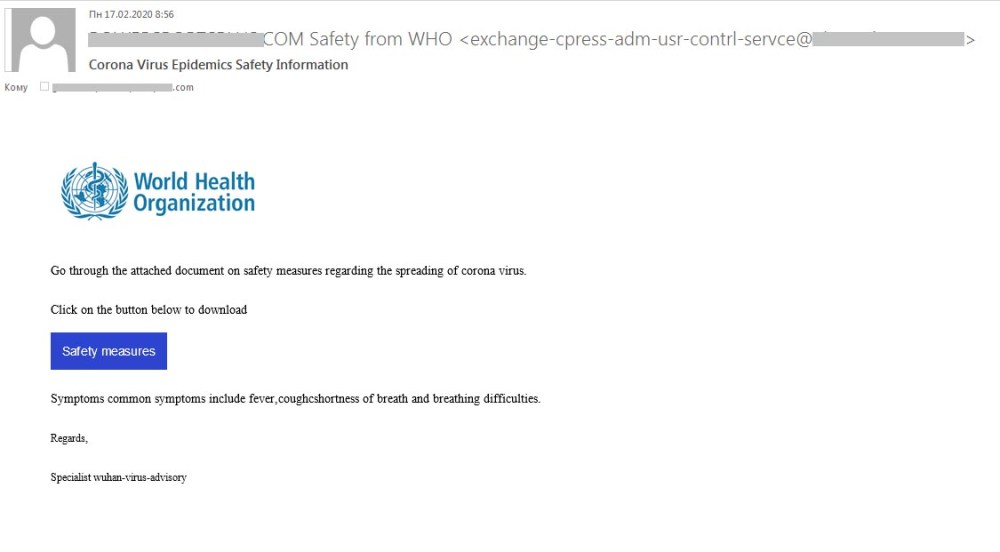 ---
Emails from tax authorities offering victims 'Tax Refunds' to help them cope with the coronavirus pandemic. If a member of the public clicked on 'access your funds now', it would take them to a fake government webpage, encouraging them to input all their financial and tax information. All they had to do was enter their name, address, phone number, mother's maiden name and bank card number – a clear scam.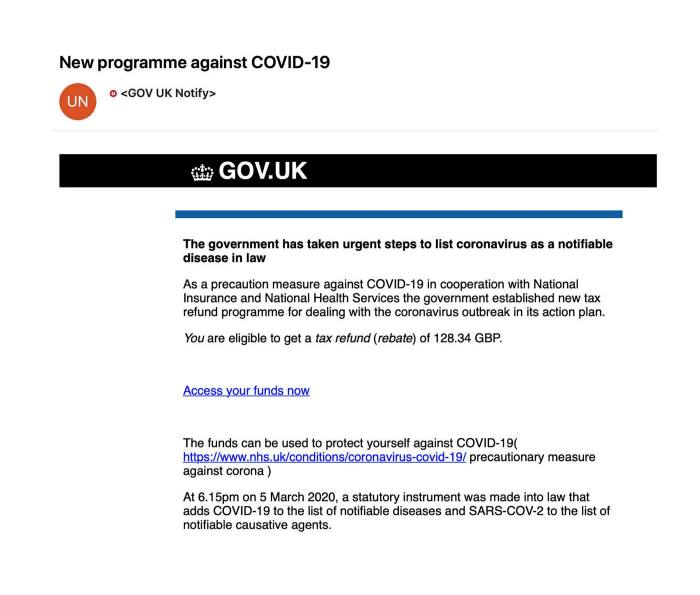 ---
Phishing emails offering to sell COVID-19 small business insurance that will cover revenue loss. And you wouldn't believe how many business owners fell for it!
---
Another phishing email offering to ship vaccines for all your employees to your business premises in order to help with local safety.
---
Pop up advert pretending to be Government agency or law enforcement demanding that you must close your business or pay a fee to keep it open.
---
Scammers have been scooping up COVID-19 and coronavirus domains, turning them into malicious malware injection sites. Lindsay Kaye, director of operation outcomes at Recorded Future, specifically called out the following domains as potentially dangerous.

coronavirusstatus[.]space
coronavirus-map[.]com
blogcoronacl.canalcero[.]digital
coronavirus[.]zone
coronavirus-realtime[.]com
coronavirus[.]app
bgvfr.coronavirusaware[.]xyz
coronavirusaware[.]xyz

And it doesn't end there! Did you know that 47% of small businesses had experienced one or more cyber attacks in the past year?
Coronavirus scam security tips
When it comes to the precautions businesses can take in terms of security, many of them are obvious. These include ensuring that all employees have basic digital security awareness and antivirus software on their devices are up to date.

However, hackers and scammers will do anything to turn a quick buck.

But not all is lost!

You can protect you and your organisations with a few quick safety tricks!
Keep your home network secure
We really hate to be the bearer of bad news here, but in case you hadn't heard, some router settings make it easier for cybercriminals to intrude or snoop on your connection. And with sensitive work-related files in play, that's bad news for your company.

If you're working from home, it's important to make sure your router is safe to connect to as your home network must now protect both your personal and professional information.

The bare minimum will be to password-protect your router if you haven't already. You'll also want to make sure your encryption, firewall and DNS settings are up to date.
Think before you click
Watch for emails claiming to be from the Centers for Disease Control and Prevention (CDC) or experts saying that have information about the virus. Carefully examine any and every URL or email you see. Any URL you see with a typo while looking for info on the coronavirus is a dead giveaway – it's a hacker hoping you don't notice the mistake and enter sensitive information!
Avoid public WiFi
Have you seen the news lately? You're supposed to be avoiding the public? And don't even get me started on public WiFi.

Coronavirus or not. Public Wi-Fi hotspots are a security nightmare. There couldn't be an easier target for hackers than free unprotected WiFi hotspots: they are super easy to compromise and yet very few people think twice before connecting to them.

By connecting to unprotected public WiFi hotspots, you're giving hackers access to all kinds of juicy, precious information such as credit card numbers, search history, login details, and even your work files. And of course, there are all your customer data too.

Find out more about Public Wi-Fi risks here.
Don't download anything
Don't download anything you find an email from an unknown sender (and be careful with clicking links as well)!

It's difficult to imagine a scenario where an organisation like the WHO would need you to download safety tips rather than simply include them in the email.

That's because they wouldn't.

So don't download anything you aren't 100% sure of. Be careful with links as well. Right click on any link you receive to make sure it's going to an official website. If you have any doubt at all, simply navigate to that website yourself and find the content you were looking for.
Watch out for unusual requests
If quarantine or work from home measures are implemented in your area, you aren't going to be the only one who knows. The hackers will too. As a result, it's in the best interest of you and your company to be vigilant. Bad actors can and will try to take advantage of the situation.

If you receive email requests or phone calls asking for sensitive information like company passwords or user accounts, always make sure to verify it through another channel.
Use encrypted file storage
If you plan on sending files to coworkers, you want to avoid using plain attachments via email. Many email services do not encrypt attachments, which makes them a high-priority target for interception. Instead, consider sending or dropping your files into an online storage service with strong encryption.

Systems like Dropbox and G Suite offer massive amounts of cloud storage for low costs, and both platforms offer encryption to protect the files you store.
Use a VPN
If you or your team are working from home, that means you're accessing it through your personal web connection. If that connection is compromised, it means you're exposing your digital workplace to cybersecurity threats.

In other words, your business is not safe online.

…and that's where we come in.

A VPN.

Virtual private network, which sends your Internet traffic through an encrypted tunnel, making it extremely difficult to intercept, track, or read. Once you have a VPN app installed on your device, all you have to do is connect to a VPN server and you & your team can browse on any wireless network without putting yourself at risk of becoming a cybercrime victim.

You don't need to be a technical genius to use our app either! VPNCity for Businesses provides a dedicated infrastructure that's easy to use for you and your colleagues. It effortlessly integrates with your company's existing platforms and protects every one of your devices — computers, laptops, phones and tablets.

It is by far the most robust protection you can get to protect your privacy and stay secure at the same time.
What extra protection can VPNCity offer my business?
We're glad you asked! Let's go over some key features together.

• Digital security for your entire team
We secure your business data from cybercriminals by using military-grade encryption.

• Safety on any Wi-Fi network
We encrypt all your online activity, including the files you share or the emails you send.

• Dedicated global IP address
Each plan comes with 1 free dedicated IP address for your business VPN.

• Protection for your company data in the office and on the go
Connect to VPNCity servers at any time, for many times as you want.

• Protection for your customer data
Our military-grade encryption will secure your business and customer data against cyber criminals.

• Unrestricted global access
Bypass geo-restrictions & access blocked content and services from anywhere in the world.
Coronavirus cyber security threats wrapped up
All in all, from small companies to huge corporations, nobody is immune to digital threats. At times like this, it's critical we protect ourselves and our businesses the best we can.

So wash your hands. Turn on your VPN. And stay safe online.

Seriously, that is all there is to it.

With a dedicated business VPN (like VPNCity), your entire team can securely access company resources remotely, browse securely, and explore geo-restricted content.

Don't get caught in the landslide of cybercrime and join the majority of businesses that are protected online today. We'd love to help you!

Claim you 1 year free premium VPN by emailing support@vpncity.com with the subject line Business VPN. No need to worry about the setup process either, our customer support will help you with it all!
Alternatively, if you want to learn more about our business VPN, please click here.
---
*For new customers only, must be able to demonstrate business ownership, offer valid until 31/03/20.