Whether you're trying to fight boredom or avoid your family members during the quarantine, we want to make sure you have plenty of distractions!

That's why we are delighted to announce that we've found a way for you to access Disney+, no matter where you are.

We waited for a long time, and now it's finally (mostly) here! And I am exactly as excited as my pay-check demands I be. Wooo.

Get ready for all things Disney!
What is Disney+?
Disney+ is a major new streaming platform owned by The Walt Disney Company with a growing collection of movies and shows from Disney, Pixar, Marvel, Star Wars, National Geographic, and 20th Century Fox.

Disney+ is simply everything we ever wished it would be.

Well, except for the geo-blocks but we will get to that.
Where is Disney+ available?
Disney+ is releasing gradually across different parts of the world. That means some countries have to wait longer, and some don't even have a release date scheduled at all.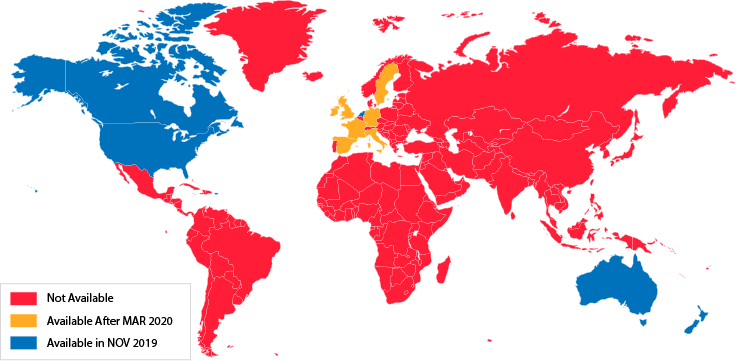 Disney+ is currently available in the United States, Canada, Puerto Rico, the Netherlands, Australia, New Zealand, United Kingdom, Ireland, Germany, Austria, Switzerland, France, Italy, and Spain.

If you try to stream from outside of these countries, you'll get the dreaded error message.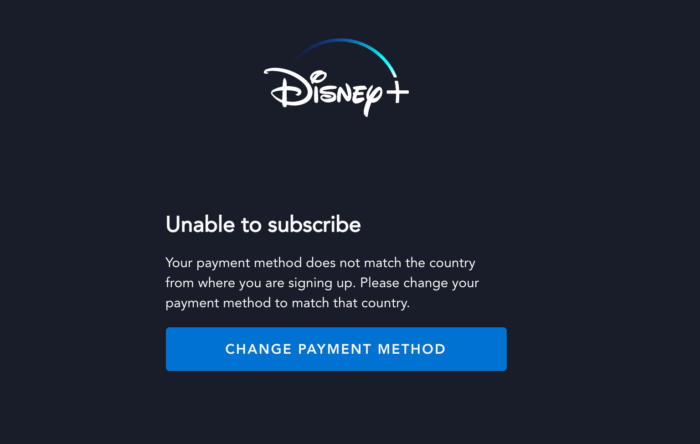 Looks familiar?

But not all is lost!
With a little bit of magic and a whole lot of VPN, you can access Disney Plus from anywhere in the world.

But if all these whats and whys are too much information for you and you just want to know how you can get Disney+ to work, you can skip ahead to our Guides. If you'd like to go even faster, signing up for VPNCity is the golden ticket for accessing Disney+ from anywhere.
Unblock Disney+ with a VPN
Each country has different licenses and rights for movies, TV shows, and documentaries which is why libraries have different content. Popular streaming services (such as Disney Plus, Netflix, Hulu, Amazon Prime) use geolocation technology to track your IP address and location, so they know exactly where you are.

For the sake of this blog post, I am going to assume you're outside any of the 14 accessible countries mentioned above and you can't stream Disney+.

So let's talk solutions.

VPN.

A VPN is an app that lets you fool the internet into believing you're browsing from the country of your choice. It also hides your IP address and encrypts all you do online, making you invisible and untraceable.

And because you can pick and change your virtual 'country' whenever you want, you can jump over geo-blocks and binge on all Disney shows your heart desires!

In short, a good VPN can make the impossible, possible.
What can I watch on Disney+?
Disney+ has a bunch of content ready to stream immediately – over 500 films, 350 TV series and 26 exclusive Disney+ originals.

Sure, the content library isn't as large as that of Netflix, Disney Plus is the exclusive streaming home of a significant portion of Disney's massive content archive, and is the only place to see new material like the live-action Star Wars series The Mandalorian, as well as upcoming content from Marvel Studios.

Not to mention, it also hosts a wealth of content from Pixar and National Geographic!
Disney+ TV shows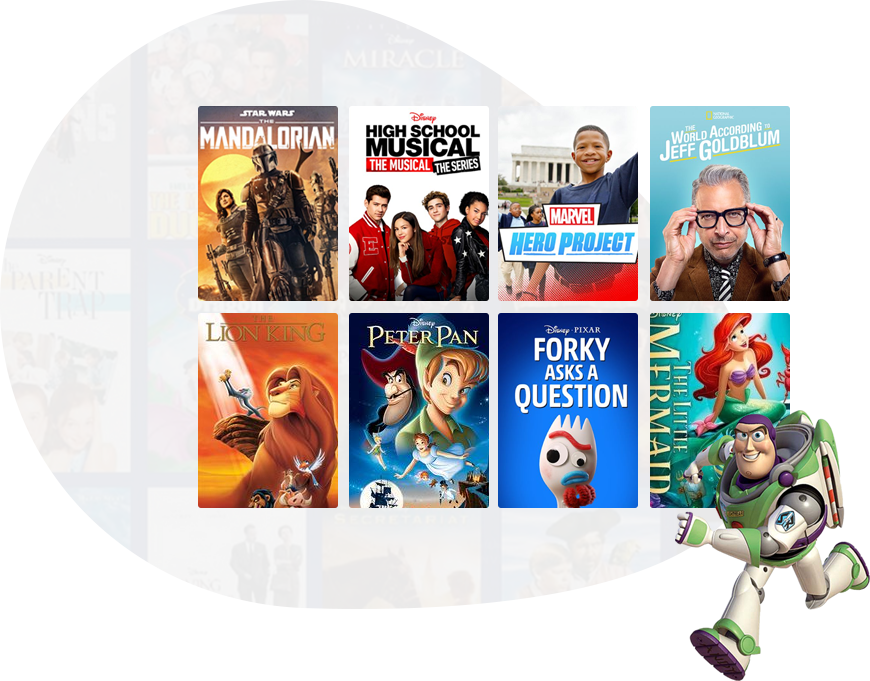 Everyone loves a bit of Disney. Am I right?

You can stream anything and everything that falls under the Disney umbrella — and make no mistake, it is a huge umbrella.

You can now stream some of the top trending TV shows such as Big Hero 6, Star Wars Resistance, DuckTales, The Simpsons, PJ Masks, The Little Mermaid, Big City Greens, So Weird and much more.
Disney+ movies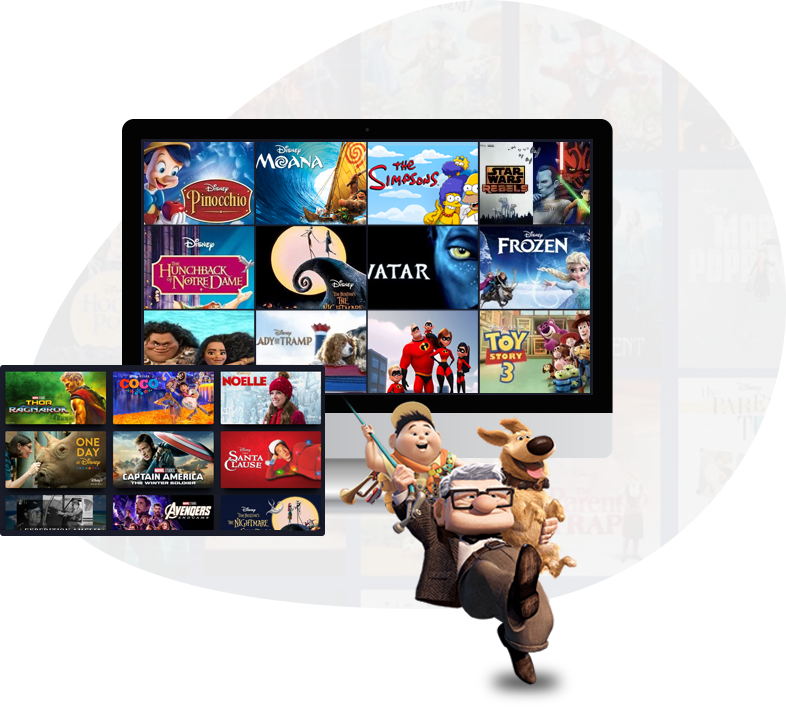 Disney's animated features have been loved by people of all ages and backgrounds. The Disney+ streaming service host dozens of great Disney movies which you might not have watched.

Some of the top trending movies on the platform include The Mandalorian, Star Wars, High School Musical, Avengers Assemble, Hannah Montana, Iron Man, Silver Surfer, Spider-Man, X-Men, and more!
Disney+ classics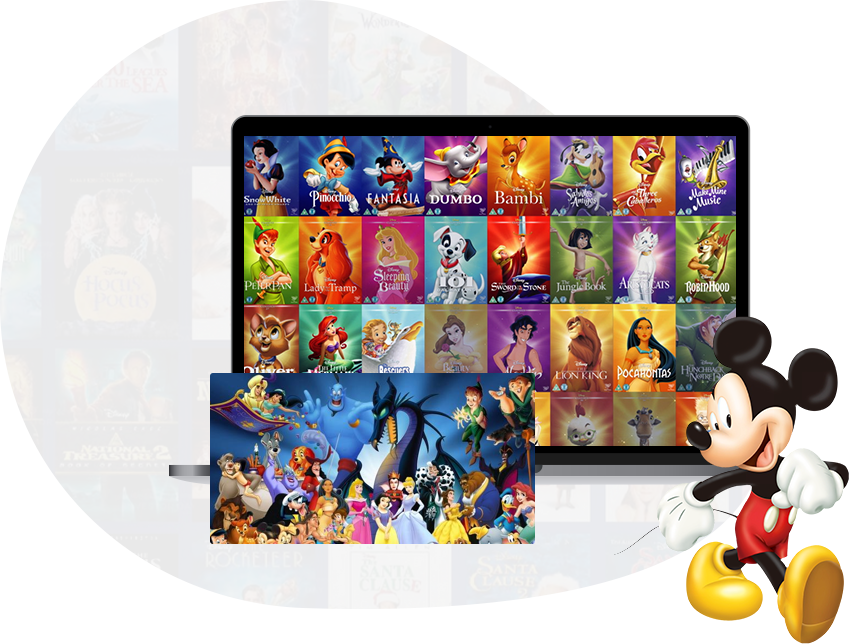 What about the classics, such as The Lion King, Aladin, Peter Pan, Beauty and the Beast, Cinderella, Dumbo and The Jungle Book?

Disney+ has got them all too. All the great fairytale classics that Disney+ has been animating into feature lengths are all available on the Disney Plus streaming service
How do I unblock Disney+ from anywhere?
If you want to stream Disney+ outside of its available regions, you'll need a VPN subscription and a payment method registered in one of the countries where Disney Plus is available.

However, what if you don't have a registered payment in one of these countries?

Fear not, we've found a solution! And it's completely legal!

You can make a payment through gift cards on iTunes, Google Play Store, PS4 and Amazon!

Yup, it's that simple!

Click here for a step-by-step guide for iOS users
Click here for a step-by-step guide for Android users
Watch on different devices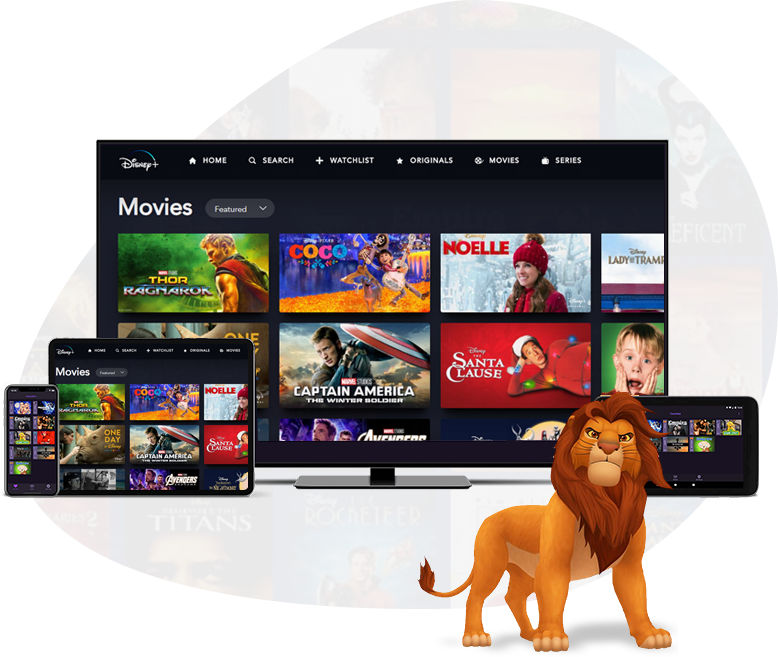 We get you! Sometimes you'll want to stream your favourite Disneys on your laptop, other times from your tablet, phone or telly.

The good news is, we cover them all.

Instead of getting a new subscription for every device you own, you can get a single VPNCity subscription to meet your requirements on all devices easily.

With VPNCity You can watch Disney+ in the following ways:

Pretty sweet, huh? And the good news doesn't end here, you can use VPNCity to access Disney+ on up to 12 devices at the same time and you still get unlimited bandwidth and fast speed.
More reasons to choose VPNCity…
Optimised streaming servers
Firefox and Chrome extensions
AES 256-bit encryption
30-day money-back guarantee
Works with: Disney+, Netflix, Hulu, HBO, BBC iPlayer, Amazon Prime Video, Sling TV
Compatible with: Windows, macOS, Android TV, Linux, browsers, Apple TV, routers
Connect up to 12 devices
Wrapping up
If we lived in a perfect world, we wouldn't need to jump through so many hoops to enjoy our favourite Disney shows and films. But we're about as far from a perfect world as we can get these days and frankly every little bit we can do to put us back in the right direction is effort well-spent. Objectively, getting around geo-blocks is about the least important thing you can do with this revolutionary privacy tech, but you know what? If Disney+ is what makes you happy and gets you through this crazy roller-coaster? More power to ya.

Catch up on your Disney favourites today! In case you missed the five other times I've linked to the best VPN for Disney+ you can click below.
I hope this was helpful to all our readers, no matter where they live. Unless you're in any of the 14 countries I mentioned at the beginning, of course. In which case, this whole article was a waste of both our times.

If you need any help or have any questions, please don't hesitate to get in touch with our 24/7 live chat here.