Enabling the KillSwitch is as easy as 1-2-3!
click on the screenshots below to enlarge
Launch and Connect to the VPNCity Windows App.
If you still do not have this installed, you can download and follow the steps to install it here
2. Once connected, click on Settings tab on the lower right corner of the app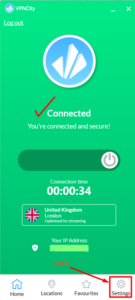 3. Click to slide bar to Enable Kill Switch > Click Yes to Enable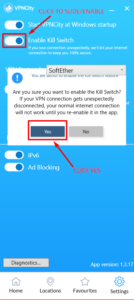 and as easy as pie… you are all set with KillSwitch!
If you need further assistance, we are available to assist you via Live Chat 24 hours a day Mondays through Fridays (just click on the light blue button on the lower right corner of this page), and via email 24/7 at support@vpncity.com so you may reach out to us at your most convenient time.