This article may be boring for some, but its aim is to educate users about what the VPNCity Pi Img is and how it works!
If you want to setup your Raspberry Pi as a VPN Wifi hotspot click here
Some facts
Based on Raspbian Stretch minimal install with very little running
Default ssh username is "pi"
Default password is "cX83Sn060d"
SSH root user is disallowed by default
Default SSH Port is 22188
Default interface can be found @ http://192.168.102.1 or if you have bonjour service, http://vpncity.local on your home network AND the VPNCity network.
The Pi always has internet access through your home network, but disallows network access to users connected through the wireless when not connected to a VPN
Everything on the Pi is Open Source.
Security
There are a few things you can do to make your Pi more secure. We highly recommend changing the default password to your Pi. You can do so by connecting to SSH via port 22188.
Connect with username pi on port 22188
Once connected type "su -" to change from pi user to root
Enter the same password again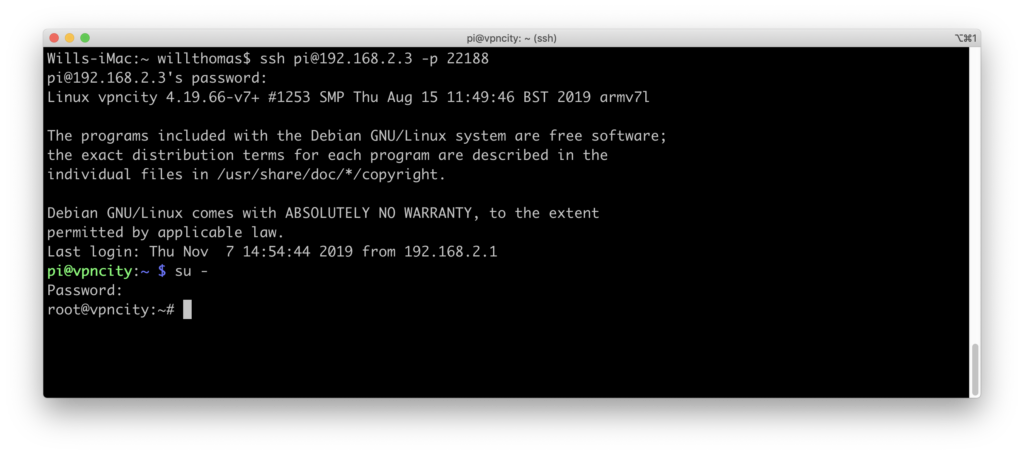 Now that you are logged in as root, you can change the root password by typing "passwd root" and also "passwd pi"
Once done, type "exit" twice to drop out of the Pi.
What runs on the Pi?
We based the Image on a minimal Raspbian Stretch install. We have given the root volume 1.6gb of usable space. With the install of packages the system uses about 1.3gb. This is to try and keep the download as small as possible.
Extending the volume is perfectly do-able if you wished to.
This Pi can be used for other purposes as well as the VPN. Using additional packages should not break anything. We use out the box software with some basic changes to configs.
Anything else?
We'd recommend upgrading the Pi at intervals. You can do so using apt-get upgrade