Like you, we don't like long and complicated guides and tutorials – so I will go straight to the point.
Here is what you will learn in this article:
Choose an approach and an offer to promote.
How to get traffic; traffic sources, free traffic and paid traffic.
Where should I send my traffic/visitors? Choose a landing page.
Where can I find some banners and other creatives to promote?
Where can I track my earnings?
How can I withdraw my earnings?
But before you jump directly to the tasks, I have a few things to tell you.

You are here because you want to earn money with the popular VPNCity Affiliate Program and you need some help to get started.
You probably already know that we will pay you 45% of every transaction/customer that you send to us. That's on any subscription plan and the commission is recurring which basically means that you will also get paid 45% everytime the customer is renewing their subscription with us.
Example 1: If a customer referred by you subscribes to the $9.95 monthly plan, you will receive $4.48 (45% commission) for every month the customer remains with us until they cancel their subscription. (1-month subscribers stay with us for 8 months on average).
Example 2: If the customer subscribes to the 1 year plan that costs $47.88, you will receive $21.55 for every year they remain with us.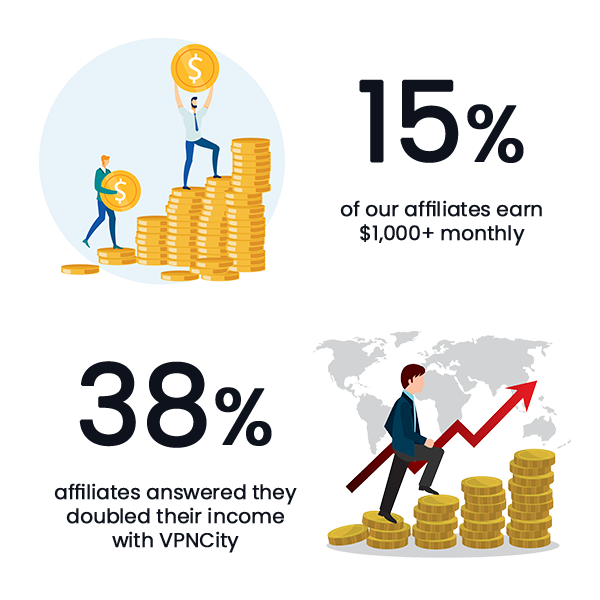 Before you start calculating some potential profits you should know that almost 50% of our customers subscribe to the 1 year and 2 year plans, so that means a potentially very high profit margin for you.
Also, you need to understand that this is not a full-time job. You decide how much effort and time you are going to put in this and your results will be directly proportional to the work you do.
You can work only 1-2 hours every couple of days and still have enough success with this to at least pay your monthly bills, but if you are willing to invest more time and energy into this, I can promise you that greater results will come.
Here are some stats to show you how other affiliates are doing with us.
15% of our affiliates earn more than $1,000 a month.
More than 20% of them receive at least $500 every month coming only from recurring commissions.
38% of our affiliates answered that they doubled their income in their first 3 months with VPNCity.
Now let's talk a little about affiliate marketing. If you have no idea what this is or how this works here is what I consider to be the best definition of affiliate marketing:
Affiliate marketing is the process of earning a commission by promoting other people's (or company's) products. You find a product you like, promote it to others and earn a piece of the profit for each sale that you make.

Pat Flynn, Smart Passive Income
You can find a lot of information online about affiliate marketing by just doing a simple search on Google or Youtube. There are lots of guides and tutorials on how to make money online with affiliate marketing, but fortunately in this case you don't need anything like that.
There is only one thing that you need to succeed in affiliate marketing – only one thing that all the trainings and tutorials out there have in common, and that is traffic.
This is the only thing you need to focus on right now. Send us traffic, as much visitors as possible and we will take care of the rest. We will offer you landing pages, banners, videos, email templates, customer support and everything else you may need to convert your visitors to customers and to start making money from day 1.
If you think you are not capable of sending us traffic (visitors), then think again. Just continue to read this article and you will see how easy it actually is.
How to get traffic. Traffic sources. Offers to promote.
If you are a beginner and have never tried affiliate marketing before, then probably your biggest question to get started is "How to generate traffic?".
There are lots of traffic sources out there and multiple methods to get it, but the most important traffic source is you. That's right, you!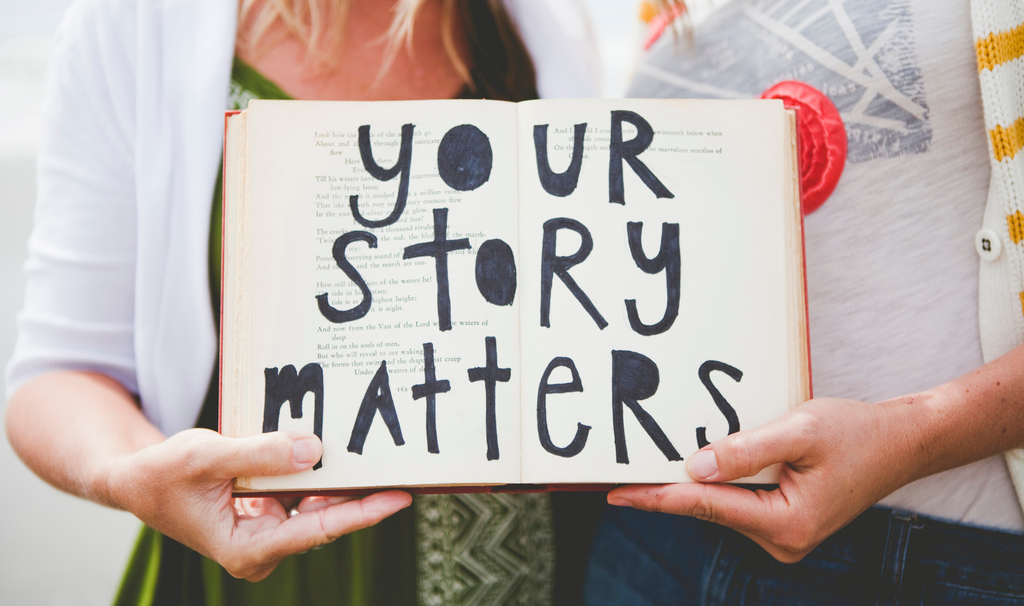 Your Story = Free Traffic
Often overlooked is the fact that your story is something that no one else can offer, which means you are a unique selling point, that no one else can offer.
Here's the thing, everyone has a story and a market behind or in front of them.
Even though it might seem that people want to follow the hot perfect girl or the good looking charismatic guy the truth is, people invest in products that are recommended by people similar to them.
Your Recommendation Matters.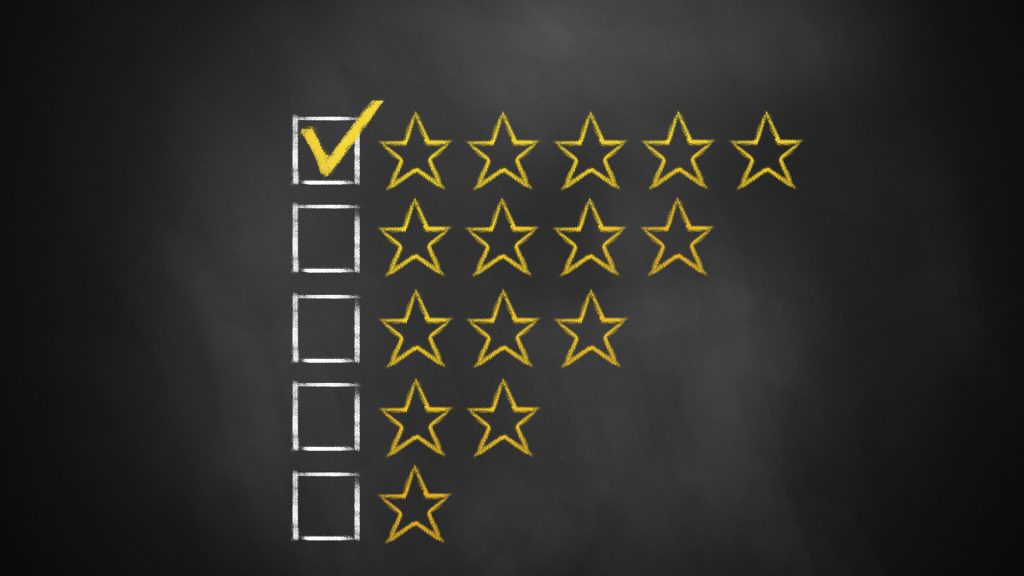 People listen to people. This is why user reviews on Yelp, Amazon, TripAdvisor and other review sites are so popular.
In the last couple of years, more people started to avoid trusting paid endorsements by big media companies especially on advertising channels like TV and radio and now even on the internet because of exaggerated, over-saturation on all advertising channels.
If you needed a recommendation and know a friend, coworker or neighbour that uses the same product, wouldn't you be more likely to listen to their recommendation than trust the salesman at the store or some big faceless website with no personality?
Why do you think Instagram or Youtube influencers started to gain so much money and power in this marketing game? It's because people identify with them. Like I said above, people listen to people, and people buy from people. People build a connection easier with likeminded people, much more than the faceless website banner or a 15 seconds TV promo that has nothing to do with them.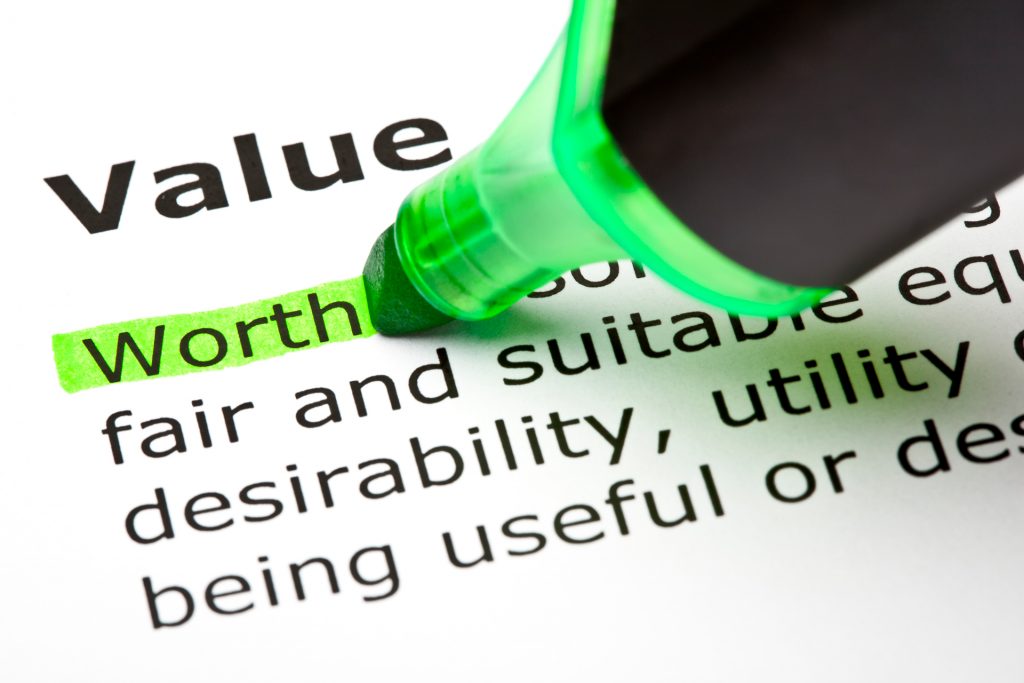 Offer them value.
This means that when you are online the more your content sounds like an advertisement the less results you will get. And in the same time the more you sound as a real story coming from real people, the more results and engagement you will gain.
The first thing you should focus on when you are trying to put your content in front of your potential customers is to offer them value.
Offer them a solution to their problem, even if they didn't know they had a problem. The surprise factor is actually helping a lot. The customer's reaction is even better when they discover how awesome this product or service is and they didn't even have a clue this existed before.
Don't spam people with your affiliate link on all kinds of websites, comments and social networks and expect to get rich right away. This is not how this works. Give them a hand first, offer them solutions and answers to their issues and in return I can guarantee you that they will thank you by using your affiliate link. Maybe not all of them, but some will definitely do.
Also, just think about it, you only need 1-2 purchases every couple of days to make an additional income of $500 up to $1,000 and that with just 1 hour of daily work.
You should have a pretty clear idea by now about what type of message to use in your efforts to promote VPNCity and start making money asap.
Continue to read this and you will discover how you can spend no more than 1-2 hours every day to earn an additional income every month with very low effort and by using only your laptop or smartphone and maybe some creativity.
Enough with the storytelling. Here are your actionable tasks, to action today!
There are 5 simple steps that you need to follow: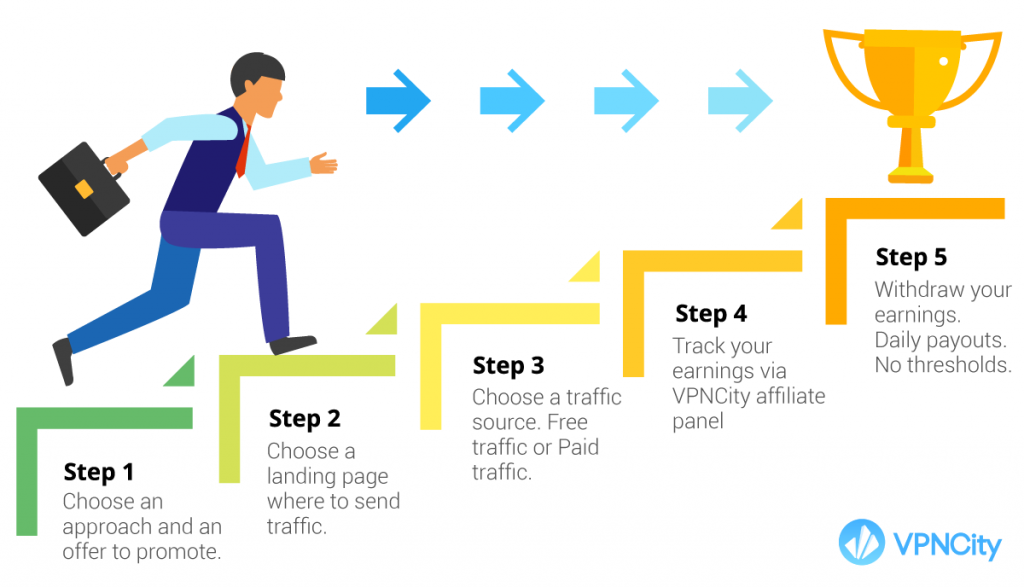 Step 1. Choose a type of message, offer to promote.
There are 4 types of messages and offers that we know perform well for us and for our affiliate community.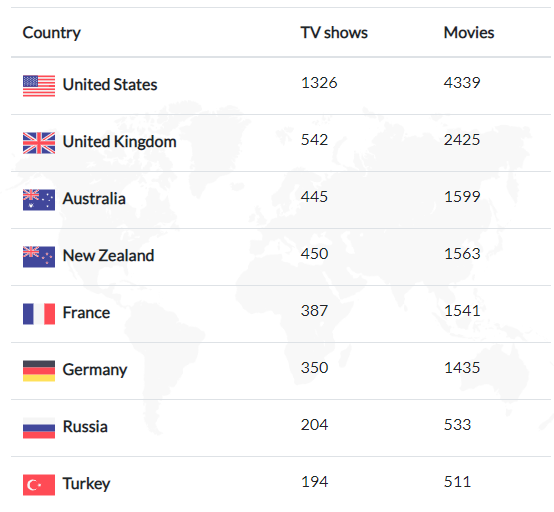 1. Unlock Netflix US approach.
This is one of the most popular reasons why people buy a VPN. Did you know that your Netflix subscription doesn't give you access to its entire library of content?
The content you can see from your country is never the same as United States Netflix. Netflix US is always going to have the best and the most popular content and a lot of people would love to get access to this but they can't because of the geo-restriction Netflix has in place.
In order to Unlock Netflix US you need to change your digital location, your IP, and you can do that only with a premium optimized for streaming VPN service.
This is exactly what VPNCity is able to do for people and the approach/message you should use to get sales.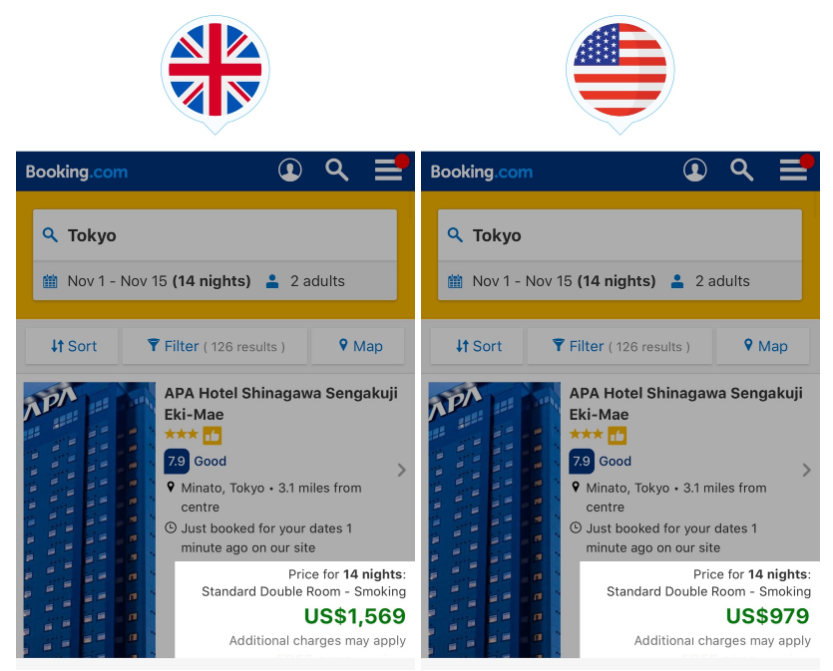 2. Save money on travel websites approach.
Did you know that travel websites use your location to manipulate prices and make more money off you?
Sneaky travel websites change their prices based on the location you're booking from. This black-hat practise is a closely guarded secret companies like airlines, hotels and car rentals make tons of money from!
VPNCity protects you from this price manipulation by hiding and changing your digital location! Simply open our app, connect to a server in a different location with a single tap or click and reload the websites. You will see how the prices are changing in front of your eyes!
Just take a look at the attached image to see how a customer from UK is overcharged 38% more for the same hotel and the same dates just because Booking.com knows that a UK customer is willing to pay more than a US customer.
Just imagine how much money someone can save when they book their entire trip. You can save 15-20 up to 30% when you book your hotel room, rent a car or even buy your flight tickets.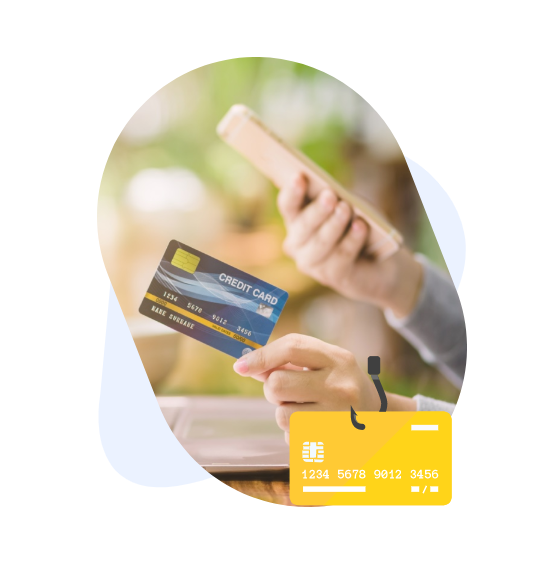 3. Protect your devices whilst online approach.
First of all you should know that 700 million people were victims of cybercrime in 2019 and the numbers are expected to go up by 15% in 2020. As you can see the potential of this market is huge.
Just think about it, free WiFi is very handy, right? It's available in your favourite coffee shop, local town centre or when you're travelling by train or plane, in airports or hotels, basically everywhere. Well, hackers love it too! With a few simple steps they can infiltrate an unsecured WiFi network and use it to collect your personal details and data.
VPNCity protects all your devices, everywhere you go, by hiding your digital location and encrypting your connection. Use it with our mobile apps or even our browser extensions.
If you think you can reach an audience interested in protecting their devices whilst online, then you should definitely try this type of approach/offer.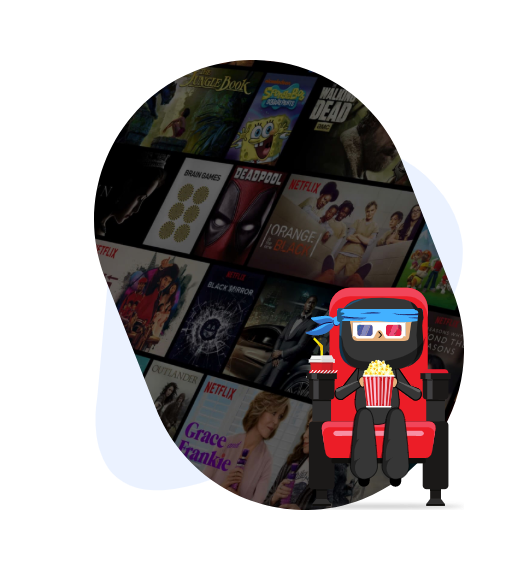 4. Unblock geo-restricted websites worldwide approach.
Did you know that more than 27 countries have blocked Youtube at least once?
Millions of people do not have access to social media, websites or streaming platforms in their home, workplace or school.
Even you might have experienced trouble accessing websites, apps or even watching a video on YouTube or finding a show on Netflix. That's because a lot of websites have set different rules to block, limit or just deliver a different content based on your geo-location.
Some governments from countries like China, Iran, Saudi Arabia and others have even banned access to some of the most popular websites like Youtube or Facebook and the only way to bypass this block is to use a VPN.
VPNCity will put a stop to this. Our VPN unlocks geo-restricted content by changing your digital location making it possible to access all websites securely, from anywhere in the world.
Now you have 4 different offers to choose from. But please don't overthink this, there is no good or bad offer. We already tested all these approaches and they all work. Is not about luck or choosing the right offer, is about how much effort you are willing to put in this.
But how do I know which offer is the best for me?
It's really hard to say which type of message or offer is going to perform the best for you. You will probably need to test all of them just to be sure but before you do that just ask yourself a few questions:
Can I find some people that would love to Unlock Netflix US? Can I convince them to pay only a few dollars a months to get access to the entire Netflix US library? Can I convince these people to basically pay only a few cents per day to watch their favorite TV Show on Netflix US? Just think about how many TV Shows are available on Netflix US and are not available in your country or in any other countries similar to yours. If your answer to any of these questions is YES, then you should definitely try the "Unlock Netflix US approach".
Can I somehow find people that love to travel? Can I find people that would love to save 20-30% or even a small 5-10% discount when they use travel websites like Booking.com, Expedia or Tripadvisor, etc? Can I convince them to pay only a few dollars a month just to save hundreds or even thousands of dollars on their next trip in Europe, or Africa or to any other continent or country? If the answer to any of these questions is YES, then the "Save money on travel websites" approach is definitely right for you.
Like we said above, 700 million people were victims of cybercrime in 2019. Do you think you can reach this kind of people and show them how to protect their devices whilst online with VPNCity and for only a couple of dollars a month? Show to them how to stay safe online when they use public WiFi in places like hotels, airports, trains, concerts or all kinds of public events. If you think you can do this, then the "Protect your devices whilst online" approach is definitely worth a try for you.
There are tons of websites and apps that are totally blocked in a lot of countries or their content is significantly different based on your geo-location. Do you think you could reach these people and show to them how to unlock their favorite websites, apps or games for only a couple of dollars per month? If YES, then you need to try the "Unblock geo-restricted websites worldwide" approach asap. This approach is performing great for most of our affiliates.
Step 2. Choose some landing pages where to send your traffic.
There are only 2 small steps here.
Choose a landing page to promote from this list. We recommend the pages with the Free trial offer because they convert better. Also, the landing page you choose should be 100% related to the offer you choose to promote at step 1.
Don't forget to add your referral ID at the end of the URL. Without that we can't track the sales that are coming from you. You can find your referral ID on the Affiliate panel. Here is a screenshot of where to find your Referral ID.

This is the code that you need to add at the end of the URL: "?ref=XXXXXXXXX" where "XXXXXXXXX" is your Referral ID of course.
Here is an example of how the final offer page URL should look like: "https://www.vpncity.com/page/unlock-us-netflix-free-trial2?ref=XXXXXXXXX"
Step 3. Choose a traffic source. Free traffic and Paid traffic.
3.1 Free traffic sources.
Quora is the best-ranked website for questions and answers on Google. You have to answer a question that is related to your niche within a few paragraphs. You can keep your affiliate links in the answer but, don't give short answers and try to post too many links because it may be considered spam and your account might be blocked. Also, keep in mind that Quora is not the only Q&A website in the world. Just do a little research and you will find tons of websites where people are looking for answers to their questions. Just offer them the valuable information they are looking for and convert some of them to customers.
Youtube doesn't need any presentation. If you don't have a Youtube channel already, it's very easy to create a new one and start posting useful content right away. If you don't want to do that, you can still use Youtube to get some free traffic. Find people that are asking questions or that are looking for help in comments. Reply to these people with useful answers and also post your referral link in the comments. Choose only videos that are related to the offer that you are trying to promote. Never spam random videos with your links because this is a very bad practice.
Twitter is the best way to promote your product this is ignored traffic, You just have to use 'Advanced Search Options', when searching for tweets. For example, if you are promoting a VPN, then search for "I am looking for a VPN service" and you will find the tweets of those targeted people who are looking for a VPN product/service.
I very often hear that Reddit is overrated. This is untrue! Reddit is actually the USA's #4th ranking website. This is more than just a social news aggregation platform! This is also a web content rating platform and a discussion website. Reddit's registered community members can submit content such as a text post or a direct link.
It is known as the "catalog of ideas". Pinterest is an image-based social network and an image search engine in the same time. By using some of the features available on Pinterest, you can also easily promote your affiliate products by creating your own Pinterest boards based on the offers and links that you want to promote.
WhatsApp. You can share your affiliate links in WhatsApp groups or to your personal contacts. You are probably part of many WhatsApp groups. I know for sure I am personally a part of at least 5 big groups.
Craiglist. This is a classified ads site and is a good option for US and UK's targeted audience since you can post your affiliate products for sale.
Blogs. It's so easy to start a new blog. Just use Blogspot or WordPress or Wix. There are tons of solutions out there.
Email list
Forums. I can tell you one thing about them – they are not dead! Don't underestimate the power of forums. This is still one of the most popular places where people are looking for answers and for solutions to their problems.
Guest blogging and article contributions on other sites
Creating expert roundups of other top bloggers and industry influencers
Create a Telegram Channel. Nobody knows about this and that's the new place to generate affiliate income. There are tons of new Telegram groups now that cover all kinds of topics and subjects and some of them have hundreds of thousands of users. Just think about it – could you create a Telegram group and talk about TV Shows and Movies? Maybe talk about the new content that's added on Netflix weekly or monthly and then from time to time tell them about how they can Unlock Netflix US for just a few dollars per month? Of course you can, this is 100% doable!
Facebook friends
Facebook groups. Go join some relevant groups and start engaging with them. There are groups where people just promote their products, but there are also groups where people interact with one another. If it's the latter case then you would want to help each other out. Don't be just promoting your products. It looks salesy and spammy. Nobody likes that. Be helpful.
Instagram followers. The only link you can share on instagram is the one in your bio. So use it wisely. The easiest way to get traffic is by growing your following and encouraging them to click on your link. You can grow your followers with these simple tricks:

Follow people who follow your competition's posts. The reason why you want to do this is because these people are showing that they love to be engaging with content.

Like people's photos that use hashtags in your niche.
Comment on people's photos that use hashtags in your niche.
Follow people who post photos with hashtags in your niche.
Lastly, post engaging photos and add hashtags that relate to your niche.
There is only one big rule with free traffic. Content is king!
3.2 Paid traffic sources.
We are not going to talk a lot paid traffic sources. This is too complicated and there is too much information to cover in only one article. We will publish a separate article soon dedicated only to paid traffic sources and methods.
Here are some of the most popular paid advertising programs and ways to buy traffic.
Facebook ads. This is a very easy and in the same time complex advertising channel to use. Learn more about Facebook paid ads directly on their website here.
Instagram ads. This is integrated in the Facebook advertising platform so if you learn how to use Facebook ads you will learn how Instagram ads work as well.
Youtube ads. Very powerful advertising channel. Part of the Google Ads advertising platform. You can find more info here.
Google search ads. It's definitely not one of the cheap advertising platforms but is the one with the highest conversion rates. You can find more info here.
Native ads. A very cheap way to get paid traffic. "Content is the king" is still the rule that applies here. You can find an article about the best native ad networks here.
Pinterest ads. Some people consider Pinterest to be the Social network of buyers and I totally agree. They also have a great advertising platform where you can buy very high quality traffic and is cheaper than Facebook, Instagram or Google ads. You can find more info here.
Step 4. Track your earnings.
Always keep an eye on your Affiliate panel to see when you start getting clicks and sales, especially when you start using new traffic sources.
Here is where you can access your Affiliate Panel. Just click on the tab "Commission earned".
Step 5. Withdraw your earnings.
When you get some earnings and you want to withdraw them, just go to your Affiliate Panel, click on the "Request Withdrawal" tab and then just choose a payment method in order to submit your withdrawal request.
The payment methods that are currently available for withdrawal are: Stripe, Paypal, Alipay and Credit cards. Special payout methods may be available on request.
---
Here are some other questions that you may need an answer for.
Where can I find some banners and other creatives to promote?
There are no special requirements to join our Affiliate Program. Just be sure you are following our rules and you don't use any of the marketing methods that are not allowed. You can find all of them below.
What marketing methods are NOT allowed?

Spam Emails
Spamming on social media, blogs, forums or any other commenting system
Any illegal or deceptive type of marketing
Bidding on our brand keywords "VPNCity" and "VPN City"
If a VPNCity affiliate is found attempting to circumvent or violate these rules, they will have their commissions voided and will not receive payments. They will additionally be permanently banned from the VPNCity Affiliate Program.
How will VPNCity know that the orders came from my site?
We track clicks through an organized system and dashboard, customized especially for our affiliates. We also process orders and handle customer service. You don't have to worry about any of the operations, we'll do that for you so you can focus 100% on your marketing efforts and bringing in clients.
When will I receive my commission payment?
We don't set minimum thresholds like some VPN providers. You can withdraw every dollar. You can even request daily payouts.
Can I get paid for referring myself?
Sorry, but no. We track unique users referred from your website.
Will I still get paid if a customer is fraudulent?
No. We will not pay commission in the case of a customer getting flagged by our Fraud Detection system.
Who should I contact if I have questions about the VPNCity affiliate program?
You're more than welcome to contact your Affiliate Manager at support@vpncity.com anytime with questions or inquiries and we'll get back to you as soon as possible!
Before we end this guide let's do a recap about the steps that you need to follow in order to start making money with VPNCity affiliate program asap:
Step1. Choose an approach and an offer to promote. There are 4 types of offers above. Choose at least one to start.
Step 2. Choose one or multiple landing pages to promote according to the offer you chose at step 1. Here is the list with all landing pages. Don't forget to add your referral lD at the end of the URLs you want to promote.
Step 3. Produce the content you would like to promote. I am talking about images, banners, videos, articles, etc. If you want to use some of our creatives instead (banners, videos) you can find them here. You can even skip this step in case you don't need any banners or videos. You can use only your referral link to get started.
Step 4. Start sending traffic to your referral links.
Step 5. Monitor your traffic and your earnings on our affiliate panel here.
Step 6. Withdraw your funds when they are ready. Here you can submit a withdrawal request.
Follow the step by step guide from above and start earning money with VPNCity asap. If you didn't sign up yet, you can do that here.